Life Classes
Sunday Morning Classes

Trice Class
Study: Scripture study
Location: Laburnum Commons 1
Sisters of Strength
Study: Kisses from Katie

What would cause an eighteen-year-old senior class president and homecoming queen from Nashville, Tennessee, to disobey and disappoint her parents by forgoing college, break her little brother's heart, lose all but a handful of her friends (because they think she has gone off the deep end), and break up with the love of her life, all so she could move to Uganda, where she knew only one person and didn't even speak the language?

A passion to follow Jesus.

Katie Davis left over Christmas break of her senior year for a short mission trip to Uganda and her life was turned completely inside out. She found herself so moved by the people of Uganda and the needs she saw that she knew her calling was to return and care for them. Katie, a charismatic and articulate young woman, is in the process of adopting thirteen children in Uganda and has established a ministry, Amazima, that feeds and sends hundreds more to school while teaching them the Word of Jesus Christ.

Kisses from Katie invites readers on a journey of radical love down the red dirt roads of Uganda. You'll laugh and cry with Katie as she follows Jesus into the impossible and finds joy and beauty beneath the dust. Katie and her children delight in saying yes to the people God places in front of them and challenge readers to do the same, changing the world one person at a time.

Facilitator: Heidi Roberson, Suzanne Casey
Location: S-122
---
Wednesday Nights
Disciple Boot Camp
6 PM - 7:15 PM
Teacher: Ines Ragland (with support from Jeff Lee and Gaylia Nichols)
This exciting new course has been designed to teach new and mature believers alike, various techniques to enhance their intimacy with the Lord through personal Bible reading and study time.

This ten week course will cover topics such as "Getting into God's Word - A Systematic Approach," "How to Discover God's Principles for Any Situation in Life," "How to Use Study Helps to Enhance My Understanding of the Word," "Maintaining a Spiritual Journal," and "Getting the Most Out of Proverbs, God's Book of Wisdom." These are but a few of the innovative topics to be discussed. Materials will be provided for every participant to take home for their personal use.

Mark these dates on your calendar, bring a friend, and learn how to enhance your time while "sitting" at His Feet !


---
Sunday Afternoons - Starting in Jan 2013

Classes to help you along the way with everyday relationships, decisions and stress.
Growing Kids God's Way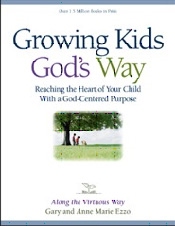 Starting January or February 2013
Sundays afternoons 2 PM - 4 PM
Click [HERE] for more information